The work we do today will meet your project goals while simultaneously preserving our natural resources for the future.  As our clients' most trusted business partner we deliver excellence with integrity.
CHEZ BRUNGRABER
President and CEO
As the owner of SummitWest, Chez Brungraber is a strategic business leader who loves the challenge of putting people in the right places, finding new opportunities and seeking growth in underserved areas of the environmental industry. Currently Chez leads a team of more than 55 staff across 5 states …
Chez Brungraber
As the owner of SummitWest, Chez Brungraber is a strategic business leader who loves the challenge of putting people in the right places, finding new opportunities and seeking growth in underserved areas of the environmental industry. Currently Chez leads a team of more than 55 staff across 5 states.
Chez is an experienced wildlife biologist and project manager, emphasizing in endangered species management, regulatory permitting, and construction compliance. Chez has over 15 years of experience in support of CEQA and State and federal Endangered Species Acts, including planning, permitting, endangered species surveys, management plans, and restoration plans.
Chez is passionate about problem solving through creative processes, data management, and listening to the client. Chez prefers to work in a collaborative environment, and she founded SummitWest in 2010 to create the work environment she had always wanted to see.
DR. GRIFFIN BRUNGRABER
PROGRAM DIRECTOR
Dr. Griffin Brungraber holds over thirteen years of project management and engineering experience and more than eight years of field biology and construction monitoring. He has participated in many botanical and wildlife survey projects and has an extensive background …
Dr. Griffin Brungraber
Dr. Griffin Brungraber holds over thirteen years of project management and engineering experience and more than eight years of field biology and construction monitoring. He has participated in many botanical and wildlife survey projects and has an extensive background in monitoring and compliance within sensitive habitats. Dr. Brungraber has worked in various habitats, including desert, national forest, coastal mountains, and urban or developed areas.
He has also spent more than 30 days on Catalina island and other remote locations, including 1000+ days outside of cell phone service in the Angeles National Forest, Mojave National Preserve, and more. Dr. Brungraber is skilled with radio, satellite phone, and satellite texting communications. He has participated in 500+ flights in project helicopters, and is familiar with the associated safety protocols.
His dual background in engineering and field biology make him ideally suited for building consensus on multidisciplinary teams. As a leader, Dr. Brungraber believes in asking good questions, keeping everyone on the same page, finding common ground, and win-win solutions.
DR. WILLOW LINDSAY
CHIEF OPERATING OFFICER
Dr. Willow Lindsay brings to SummitWest nearly two decades of international leadership experience in wild animal research and project management. Dr. Lindsay's immersive background in program development, grantsmanship, team building, data analysis, and scientific publication …
Dr. Willow Lindsay
Dr. Willow Lindsay brings to SummitWest nearly two decades of international leadership experience in wild animal research and project management. Dr. Lindsay's immersive background in program development, grantsmanship, team building, data analysis, and scientific publication contribute to her comprehensive involvement with all aspects of SummitWest daily operations, and success in leading the SummitWest team as Chief Operating Officer.
Born and raised in rural Northwest Montana, Dr. Lindsay grew up close to the land. Her career as a field biologist started early in life, graduating from selling huckleberries as a child to seasonal work as a forester through high school. During college, Dr. Lindsay spent another six seasons cruising timber, clearing trails, and wildland firefighting with the US Forest Service. Her undergraduate research on Australian bees propelled her from a BS in Wildlife Biology to a PhD in Zoology – years spent chasing songbirds through the Outback, enthralled with the nuances of animal behavior. In her first Post-Doctoral research position, Dr. Lindsay spearheaded a series of field expeditions in Central and South America, aimed at understanding how bird brains have evolved to accommodate complex acrobatic courtship dance. From birds to reptiles, and the Americas to Scandinavia, Dr. Lindsay moved her growing family and research program to Sweden where she spent the next half decade as a University of Gothenburg Researcher. Increasingly galvanized by the effects of climate change on wild lands and animals, Dr. Lindsay immersed herself in the field of Climate Refugia Analysis, developing and implementing research programs to filter land-use planning through predictive climate models.
With SummitWest, Dr. Lindsay has found and embraced the perfect combination of scientific rigor, employee empowerment, and the dynamic challenge of a rapidly growing business in which to engage the full array of her strategic leadership abilities.
Dr. Calum Ninnes
Environmental Program Manager
Dr. Calum Ninnes
Dr. Calum Ninnes is an experienced ecological researcher with over 13 years of experience managing research projects in Tanzania, South Africa, New Zealand, Spain, USA, Sweden, and Antarctica. Dr. Ninnes is experienced in managing all aspects of a project's lifecycle, from permitting, budgeting, team construction, and leading field teams, to data analysis and final publication production.
Through his career Dr. Ninnes has amassed extensive fieldwork experience in remote areas around the world, from New Zealand backcountry only accessible by helicopter, to isolated rural sites in Tanzania lacking electricity or cell phone coverage, to camping in Antarctica 100 miles away from the nearest base. These challenging field conditions have shaped Dr. Ninnes into a decisive leader and excellent problem solver.
Many of Dr. Ninnes' projects have involved working with critically endangered species, such as the New Zealand birds kakapo, kokako, and kiwi. Beyond this Dr. Ninnes has experience working with a large range of protected species, and is familiar with the sensitivities and regulatory diligence that is required.
Dr. Ninnes' experience of interacting with all kinds of people from around the world have made him an excellent communicator who is engaging and personable. Dr. Ninnes is a skilled critical thinker, who is diligent, forward-thinking and adaptable to dynamic company, client and project needs.
Christina Wenborne
Interim Marketing Director & Human Resources Manager
Christina Wenborne
Christina grew up in southern California, moving from the high desert to Orange County and eventually settling in the Inland Empire. She spent most summers camping at the Kern River exploring, fishing and swimming with her family. These fond memories were a catalyst to a career supporting environmental conservation.
Christina brings over 20 years of administrative experience in a plethora of disciplines including Human Resources, Accounting, Marketing and Payroll. Since 2015, she has worked with environmental firms providing Planning, Environmental Compliance, Marketing, Human Resources Management, and administrative support on a variety of projects and teams. Her eclectic background allows her to see the "big picture" and gives her a deeper understanding of projects from start to completion.
Further, Christina brings nearly 10 years of Human Resources Management to the SummitWest team. She has an in-depth understanding of management and employee relations that allow her to bridge the gap and create a harmonious, cohesive, and supportive environment for all levels of staff. She strives to ensure that her team feels supported, empowered, and challenged.
Most weekends, Christina can be seen volunteering in her local community, doing anything creative from scrapbooking to cake decorating, or cheering for her son's T-ball team.
Linsey Blake
SENIOR PROJECT MANAGER
Linsey Blake
Linsey has over a decade of experience designing and managing complex wildlife research and habitat restoration projects. She has worked with an array of species including mountain lion, bighorn sheep, spotted owl, northern goshawk, bald eagle, southwestern willow flycatcher, piping plover, kit fox, coyote, American marten, and fisher. She has experience with ArcGIS, statistical analysis, capture and chemical immobilization of wildlife, report writing, permit compliance, has published several peer-reviewed journal articles, and holds an M.S. in Wildlife Biology from Utah State University and a B.A. in Environmental Studies from Middlebury College. Having worked in the government, non-profit, and academic sectors, Linsey is well-versed at collaborating with varied stakeholders and enjoys working with clients to find solutions that meet their diverse needs. When she's not working, you can find Linsey traveling, skiing backcountry powder, or searching out remote swimming holes.
Tom Howes
Operations Manager
Tom Howes
Tom grew up in Ohio and moved West to attend college at the University of Idaho. After receiving a degree in Natural Resource Management, he worked for the BLM and USFS on wildland firefighting crews and worked with the Montana Conservation Corps maintaining trails. Tom loved working seasonally, spending much of the off-season traveling the country. After moving to Bend, OR and starting a family, he worked in a geotechnical engineering lab before finding SummitWest Environmental. In his free time Tom can be found rock climbing, mountain biking, playing table tennis, and exploring the wildlands of Oregon with his wife and children.
MANAGEMENT & ADMINISTRATION
Amanda Castro
Senior Project Manager & Wildlife Biologist
Amanda Castro
Amanda Castro earned her BS from Arizona State and MS in Zoology at Washington State University. Her thesis focused on the effects of herbicides on salamanders in their larval stage. She has more than seven years of experience in compliance monitoring and a background in environmental management. Amanda has led multiple environmental compliance trainings and worked with endangered species. At SummitWest, she interfaces daily with monitors, construction groups, agencies, and clients. Amanda is experienced with wetland delineations, habitat assessments, restoration work, and mitigation monitoring. Her experience includes working as POC for multiple projects, including SCE's vegetation management, Routine Line Clearance program, and emergency response for the Creek Fire in Shaver Lake, CA. Amanda's field expertise includes amphibian and reptile identification, amphibian mass monitoring, large mammal surveys, raptor nest monitoring, nesting bird surveys, and burrowing owl surveys. In her downtime, Amanda enjoys backpacking, hiking, biking with her husband and dog, and participating as a board member with the Eastern Sierra Audubon Society.
Brittany Gumbleton
Environmental Coordinator & Wildlife Biologist
Brittany Gumbleton
Mrs. Gumbleton gained a Bachelor of Arts Degree from California State University, San Bernardino in Biology. Before switching gears into field biology, she worked as a veterinary technician for over 9 years. This career path helped increase her understanding how important it is to follow strict standard operating procedures and diligent record keeping. Mrs. Gumbleton is currently working as a wildlife biologist conducting pre-construction surveys and construction monitoring throughout the SCE territory. She has shown herself to be an excellent birder,  has gained familiarity with Southern CA habitat classifications, and has gained valuable skills interpreting and enforcing environmental requirements during construction monitoring. Her energy sector experience coupled with her past botanical experience in the San Bernardino Mountain Range have made her a well-rounded biologist. Also, her proficiency in analyzing collected data, willingness to add to her repertoire of knowledge by taking training courses, and her overall scientific background make her a strong addition to any team.
Bissy Murphy
Accounting Support & Bookkeeper
Elizabeth Murphy
Elizabeth Murphy earned her Bachelor of Arts in Geology with a minor in Environmental Science at Hartwick College. Fieldwork experience to complete her degree included geology work in the 
Blue Ridge Mountains, Virginia; ornithology studies in upstate New York and in the Big Horn Mountains, Wyoming; thesis work on Pre-Pleistocene Micritic Lithoclasts on San Salvador Island, Bahamas; and geology field camp in the Bridger Mountains, Montana.  
After graduating, a part time sales position morphed into managing a small business in Bozeman, MT. This paradigm shift was followed by a series of bookkeeping and accounting positions for a variety of businesses. Focusing on her professional development, Elizabeth returned to academia for an accounting degree at Central Oregon Community College. She also earned her Tax Preparer License and has been preparing income tax returns for the last 5 years.
Elizabeth is excited to be part of the SummitWest team where she is able to combine her passion for the environment with her love of numbers. Outside of work she enjoys spending time with her family, hiking in the Cascade Mountains around Bend, traveling and exploring new places or working on a craft project at home.  
Erin Barnholdt
Project Developer
Erin Barnholdt
Erin has worked for conservation non-profits across Oregon since the early 2000's, focusing on restoration ecology and community engagement. Her field work has focused on testing various strategies to restore native plant communities and riparian function. With experience in project management, field surveys, permitting applications and collaborations with private, government and local sectors, Erin has a well rounded background that allows her to jump into new situations and readily make connections.
Erin has her Master's degree in Rangeland Ecology and Watershed Management from the University of Wyoming and her B.A. in Environmental Science and Art from St. Olaf College. She serves on the board of the Deschutes Basin Native Plant Seedbank. During her free time she enjoys all things outdoors, adventuring with her husband and daughter, and doodling in her sketchbook.
ERIN SEXTON
Billing Systems Manager
Erin Sexton
Erin grew up in Southern California hiking and exploring the local mountains which sparked her excitement for the outdoors, the environment, and conservation. She went on to earn her degree in Environmental Geography at Cal Poly Pomona and spent time volunteering at Joshua Tree National Park and Sequoia National Park. Following her volunteer work in National Parks, Erin moved north to Reno, NV and then Bend, OR to immerse herself in the high desert and explore what the new regions have to offer. In her free time, Erin enjoys camping, hiking, and adventuring in new areas. Erin now lives in Santa Fe, NM and is immersing herself in the culture of the Southwest.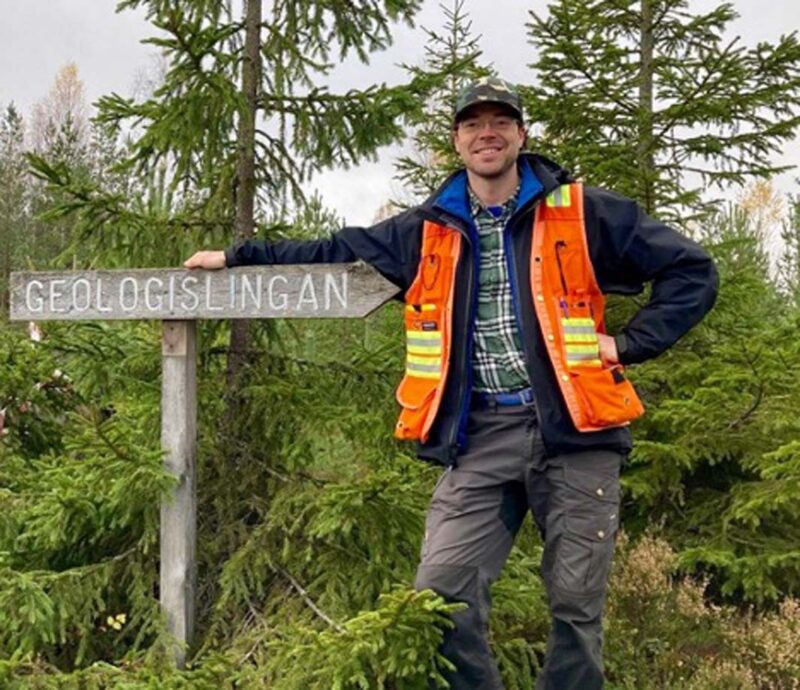 Jesse Haag
Jesse Haag
After earning a BSc. in Geoscience with High Honors from Stockholm University, Jesse Haag completed the course and research requirements for an MSc. in Geology and immediately found his professional skills in high demand. As Planner/Sanitarian and Floodplain administrator for Lincoln County, MT, Jesse successfully manages a high volume of projects involving a complex array of land-use engineering, permitting, and public communication. In his free time, Jesse exercises his strong work ethic by consulting as a Geologist and GIS Analyst for SummitWest Environmental. In between all of this, Jesse is writing his MSc. thesis entitled 'Mineralization and alteration paragenesis of Fe-oxide-sulfide-REE mineralization in the Bastnäs area, Bergslagen ore district, Sweden."
Katja Whitham
Safety Officer & Wildlife Biologist
Katja Whitham
Katja has a Master's degree in Marine Biodiversity and Conservation from Scripps Institution of Oceanography, UC San Diego, and a Bachelor of Science degree in Marine Biology from UC Santa Cruz. While her education and experience have been mainly marine focused, she is starting her migration to the terrestrial world. She worked for 5 years as a marine science educator before obtaining her Master's degree and shifting to a career focused in scientific research. Her experiences includes working as botanist support for rare plant surveys, working on a schooner in Greenland to collect and analyze water and air samples, and conducting a seaweed harvesting experiment to measure optimal growing conditions for commonly consumed California native species. Katja also conducted a research project focused on seagrass ecosystems. For this project she created a habitat loss map of Eelgrass in the San Diego Bay using ArcGIS, created and conducted a survey gathering information about the knowledge of seagrass ecosystems, and created an educational film about seagrass ecosystems. When Katja is not in the field, you can find her backpacking, camping, diving, and knitting!
Kim Fisher-Moe
Kim Fisher
Kim has almost a decade of experience in wildlife field work, including research, conservation, and environmental consulting. She has worked with a variety of species including capuchin monkey, domestic chicken, gorilla, orangutan, striped skunk, coyote, great horned owl, kit fox, antelope squirrel, kangaroo rat, burrowing owl, blunt-nosed leopard lizard, spotted owl, bald eagle, northern goshawk, bumblebee, bat, and various avian species. In addition to field work, she has experience with mapping, statistical analysis, capture and release of wildlife, report writing, permit compliance, and project management. Kim earned her MS in Biology from California State University Long Beach and her BS in Animal Behavior from Bucknell University. After living in several states, she moved to Bend, Oregon, and is excited to join the SummitWest team. When she is not working, you can find Kim hiking, training dogs, reading, trying to find the best pizza in Bend, or spending time with her cats and soon-to-be husband.
KRISTI BAKER
ENVIRONMENTAL COORDINATOR
Kristi Baker
Kristi's love for the outdoors started from an early age when traveling around the country for months at a time with her family in their motorhome. This taste for adventure grew into a love for the outdoors and eventually a career in environmental consulting. Kristina studied environmental science and management at Northern Arizona University. She worked in ecological restoration supporting various ecological restoration research projects throughout Arizona, which involved days of camping in the woods as well as studying tree cores under a microscope in a laboratory. Upon graduation, Kristi worked as a Consulting Utility Forester in support of SCE's vegetation management program, growing her experience in the consulting field in Southern California. Kristi moved to Bend, Oregon where she found a career with SummitWest Environmental. When she's not working at SummitWest's office in Bend, you can find her exploring all that Oregon has to offer, which includes snowboarding Mt Bachelor, hiking in the Cascades, camping on the coast, or playing with her pup, Fern.
Maggie Stoegbauer
Accounting & Administrative Support
Maggie Stoegbauer
Since a young age, Maggie has seen herself as a steward of the outdoors. After many years of exploring the environment, living in Arizona, Washington, and now Oregon, she decided she wanted to dedicate her career to saving and maintaining these natural areas. By applying her passion, Maggie has found that she can make a more significant impact through administration and policy changes. While finishing a double degree in Business and Sustainability, with the idea of entering law later in life, she currently works on the accounting and administration team for SummitWest. Outside work, she is avid in the snowsports and mountain biking community, finding joy in helping others get outside and have fun doing so; working in the outdoor recitation community for nearly a decade has allowed her to see the outdoors from the point of view of those who love, cherish, and use the land.
Ragnar Schmidt
Financial Administrator
Ragnar Schmidt
Although Ragnar's current home is in Bend, he has lived and worked in Iceland, Spain, and North Carolina. He graduated from Davidson College, where he majored in Economics and minored in Studio Art. His background lies in finance and data but with recent concerns regarding the well-being of the Earth, Ragnar has decided to apply his skills to the Environmental realm. He knows that his role with SummitWest will contribute positively to the Earth. When you can't find him working diligently and efficiently in the office, he is most likely skiing, kickboxing, playing soccer, or making art.